Jos Van Uijtregt
Jos van Uijtregt's (b.1947) paintings are intriguing and enigmatic. His work has been described as sensual and theatrical, with the female form and other androgynous characters, standing central in his works. It is as if a bizarre and unconventional world of dreams, drama, theatre, masks and operas inspire and captivate him. Jos describes himself as a 'viewer of scenes'. He thinks and lives in paintings but does not hide his admiration and influences of the old masters such as Croix, Polk, Lupertz and Marlene Dumas. Jos van Uijtregt is a real painter. His paintings and characters actually evolve in the spontaneity of the moment of the brush and the paint on the canvas. In his work he strives not only for the painting, but for the satisfaction of enhancing his own inner being and being able to look back on them as pieces of time in the evolution of himself as an artist.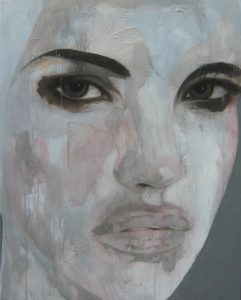 Colette     Mixed media on canvas   113 x 88 cm   £ POA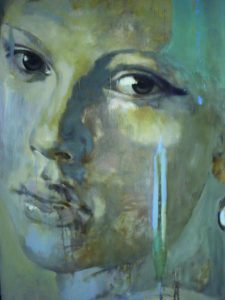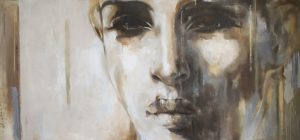 More paintings by Jos Van Uijtregt available – please contact us for details.
Featuring – Alan ALDRIDGE,  Neil CANNING,  Anthony FROST,  Chris GOLLON,  John HOYLAND, Albert IRVIN,  Rafal OLBINSKI,  Jos Van UIJTREGT,  Jerzy KOLACZ,  Maurice VERRIER.  Rainbird Fine Art gallery.
Featuring – Alan ALDRIDGE illustrator,  Neil CANNING artist,  Anthony FROST artist,  Chris GOLLON artist,  John HOYLAND artist,  Albert IRVIN artist,  Rafal OLBINSKI artist,  Jos Van UIJTREGT artist,  Jerzy KOLACZ artist,  Maurice VERRIER artist.  Rainbird Fine Art gallery
Featuring – Alan ALDRIDGE artist,  Neil CANNING art,  Anthony FROST art,  Chris GOLLON art,  John HOYLAND art,  Albert IRVIN art,  Rafal OLBINSKI art,  Jos Van UIJTREGT art,  Jerzy KOLACZ art,    Maurice VERRIER art.  Rainbird Fine Art – art gallery.