Anthony Frost
Anthony Frost (born 1951) is an English artist noted for his abstract works consisting of brightly-coloured prints and collages. Frost was born in St. Ives, Cornwall, the son of Sir Terry Frost. From 1970-1973 he studied at the Cardiff College of Art gaining a BA (Hons) in Fine Art. Since then Frost has lectured on his subject at Falmouth School of Art, Canterbury School of Art, University of East London and Anglia University. He is a prominent member of the artistic community of West Cornwall, and his work featured in the 'Art Now Cornwall' exhibition at Tate St Ives in 2007.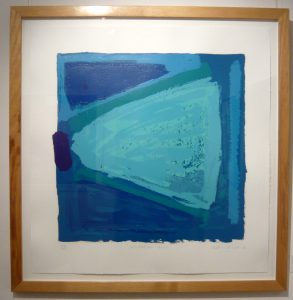 Saturation Blue    Limited Edition Screen Print (54/75)   84×84 cm  Archival framed  £850.00
Featuring – Alan ALDRIDGE,  Neil CANNING,  Anthony FROST,  Chris GOLLON,  John HOYLAND, Albert IRVIN,  Rafal OLBINSKI,  Jos Van UIJTREGT,  Jerzy KOLACZ,  Maurice VERRIER.  Charles LEVIER,  Rainbird Fine Art gallery.
Featuring – Alan ALDRIDGE illustrator,  Neil CANNING artist,  Anthony FROST artist,  Chris GOLLON artist,  John HOYLAND artist,  Albert IRVIN artist,  Rafal OLBINSKI artist,  Jos Van UIJTREGT artist,  Jerzy KOLACZ artist,  Maurice VERRIER artist, Charles LEVIER artist,  Rainbird Fine Art gallery
Featuring – Alan ALDRIDGE artist,  Neil CANNING art,  Anthony FROST art,  Chris GOLLON art,  John HOYLAND art,  Albert IRVIN art,  Rafal OLBINSKI art,  Jos Van UIJTREGT art,  Jerzy KOLACZ art,    Maurice VERRIER art.  Charles LEVIER art,  Rainbird Fine Art – art gallery.