Chris Gollon
Chris Gollon (1953 – 2017) was a British artist.
Chris Gollon was born in London, England. He lived near London, working from his studio in Surrey. He regularly exhibited in London and had many solo museum exhibitions in the UK and has works in museum collections including the British Museum.[1][2]
Chris Gollon (1953 – 2017) is an established name in British painting. Critical acclaim for Chris Gollon's work is increasing and the demand for his paintings to be shown in museums, public collections and public spaces continues. Chris Gollon first came to the attention of the art world when he was selected as Finalist in The Spectator Prize, 1989. Gollon then exhibited at Art Chicago and in 1998 with Yoko Ono, David Bowie and Gavin Turk in ROOT, a crossover exhibition of contemporary music and art created by Thurston Moore of Sonic Youth, at Chisenhale Gallery, London. In 2001, the award-winning River & Rowing Museum, Henley-on-Thames, (with the aid of the Victoria & Albert Museum) purchased Chris Gollon's hinged triptych Big Fish Eat Little Fish, which now forms part of the museum's permanent collection alongside works by Raoul Dufy and John Piper. In 2004 Chris Gollon exhibited with Bill Viola in 'Presence: Images of Christ for the Third Millennium' in St Paul's Cathedral. Chris Gollon.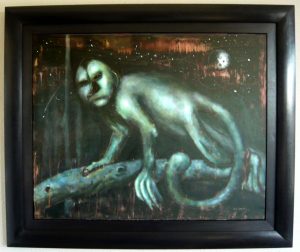 The Capuchin Monkey     Mixed media on canvas     66 x 81 cm     Framed   £ POA
Featuring – Alan ALDRIDGE,  Neil CANNING,  Anthony FROST,  Chris GOLLON,  John HOYLAND, Albert IRVIN,  Rafal OLBINSKI,  Jos Van UIJTREGT,  Jerzy KOLACZ,  Maurice VERRIER.  Charles LEVIER,  Rainbird Fine Art gallery.
Featuring – Alan ALDRIDGE illustrator,  Neil CANNING artist,  Anthony FROST artist,  Chris GOLLON artist,  John HOYLAND artist,  Albert IRVIN artist,  Rafal OLBINSKI artist,  Jos Van UIJTREGT artist,  Jerzy KOLACZ artist,  Maurice VERRIER artist, Charles LEVIER artist,  Rainbird Fine Art gallery
Featuring – Alan ALDRIDGE artist,  Neil CANNING art,  Anthony FROST art,  Chris GOLLON art,  John HOYLAND art,  Albert IRVIN art,  Rafal OLBINSKI art,  Jos Van UIJTREGT art,  Jerzy KOLACZ art,    Maurice VERRIER art.  Charles LEVIER art,  Rainbird Fine Art – art gallery.